netcup KVM
Note: AstLinux 1.3.4 or later is required
VM Host Specifications: netcup
Note: netcup has its Data Centers in Germany + Austria only.
AstLinux Board Type:
"genx86_64-vm" (VGA video console)
VM Guest Recommended Options:
Plan: VPS 200 G8

Memory: 2 GB

CPU: 1 Processor Core

Virtual Storage: 20 GB SSD (RAID10)

40 TB Traffic
Configuration:
After you created an account, netcup might verify your account via telephone. After that you'll get your credentials for logging in their Servercontrolpanel. After login you'll need to select your server. In my case a Debian installation was pre-installed.
Now go to Media/DVD Drive:

At the bottom of this page you'll find FTP credentials to upload your AstLinux ISO image via FTP into the cdrom directory:

After the upload the ISO will appear in Own DVDs:

Select it, activate DVD boot mode and enter your Servercontrolpanel password. Then go to Media/Local Disk: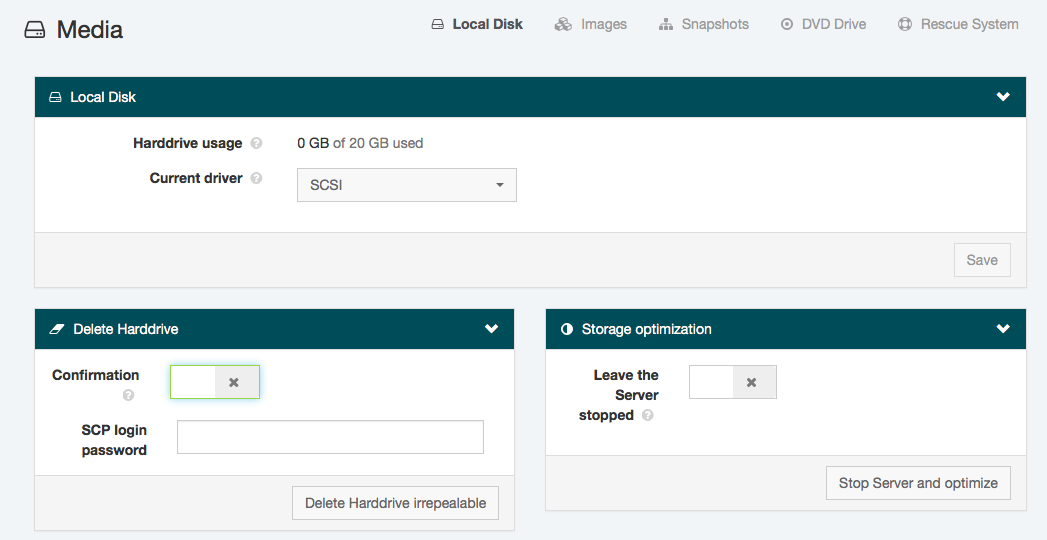 Delete the pre-installed harddrive and enter again your Servercontrolpanel password.
Now you can start your vServer and start with your normal AstLinux ISO installation:
Select the Install installer menu, follow the dialogs to install an AstLinux image to your virtual disk.
When finished select Shutdown in the installer menu. Go to Media/DVD Drive and eject the DVD. Start the vServer again and complete the installation via the WebGUI. It is useful to enable the QEMU Guest Agent in your user.conf with QEMU_GUEST_AGENT="yes"
Tip -> Note the "IPv4 Address:" on the console screen and access the VM with SSH or an HTTPS browser from anywhere.
Warning -> It is important to enable the Firewall as soon as possible. Create rules with limited access for TCP ports 22,80,443 (SSH/HTTP/HTTPS) from trusted public addresses.
Tip -> If you have trouble getting an IP-address via DHCP, do not fiddle with AstLinux, but instead contact the netcup support via the contact form in their Customer Control Panel. In my case there was a general networking issue with my account, which was fixed by the support within a day.